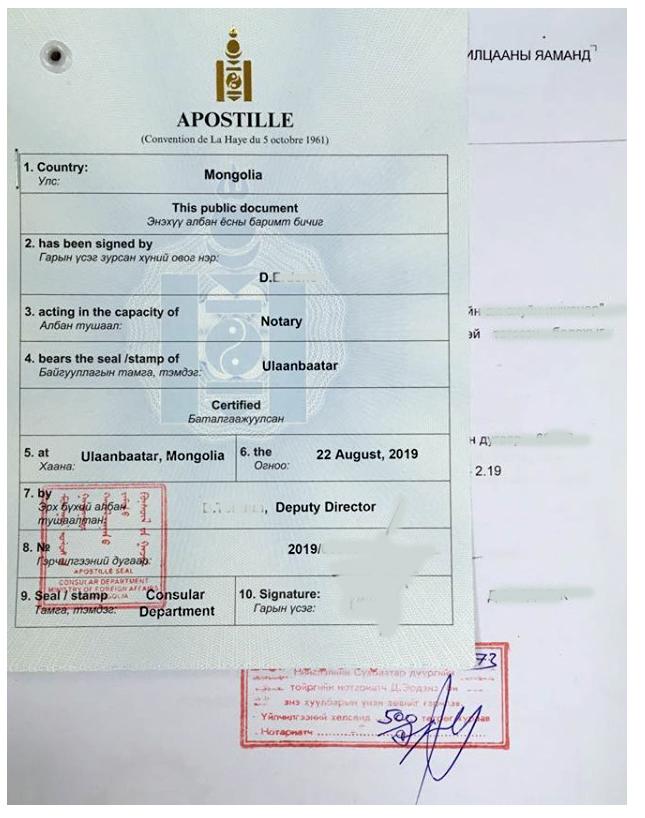 INTRODUCTION OF PROCEDURES FOR CERTIFYING DOCUMENTS AND ISSUING "APOSTILLE" CERTIFICATES
The Parliament approved the revised version of procedures for certifying documents and issuing "apostille" certificates on November 17, 2022 and became effective on 01 December 2022.
Legalizing public documents in Mongolia implies authenticating the origin of the document and the authority of the officials who have affixed the signature, seal or stamp on the document. After such verification, documents drawn up in the Mongolian language and issued by the Mongolian authorities and other authorized bodies or certified by Mongolian notaries can be apostillized. The apostille is usually placed on the back of the underlying public document or on a separate attached page. Responsible for issuing the apostille is the Consulate of the Ministry of Foreign Affairs.
The original personal copy of the document shall be notarized. The submitted documents shall be translated into the language used in the country by a certified translation agency and notarized by Mongolia. The application form for the Apostille certificate must be completed.
Verification of documents and issuance of "Apostille" certificate
A request for document verification shall be made by the following person (hereinafter referred to as "Client"):
· The owner of the document, his legal representative, and his authorized representative,
· if the client is a legal entity, a representative authorized by him or a person authorized by him;
· The person who signed the document.
When submitting a document verification request, the client must provide the following documents:
1. an accurately and completely completed "Apostille" certificate application form for a citizen" or "Apostille" certificate application form for a legal entity";
2. original and copy of certification documents;
3. receipt of payment of the document verification service fee;
4. a certified translation of the certification document into the language of the applicable country. The translation shall be notarized.
The client can submit a request for document verification in person at the Consulate, by mail, or electronically. The consulate will check the document within 3 (three) working days from the date of receipt of the document verification request, and if it meets the necessary requirements, it will verify the document and issue an "Apostille" certificate
Source: https://legalinfo.mn/mn